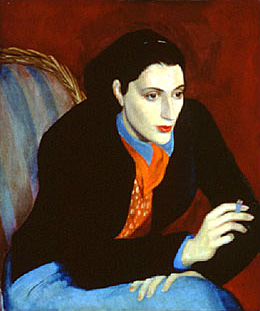 May Sarton
Read | On The Writer | On The Writing
Favorite Quotes | Film and Audio | Q&A | Links | Order Books
May Sarton
"The liberated, intellectual, cigarette-smoking sage"
It's Thayer's Portrait of May Sarton (at left), a depiction of the late poet in the prime of her life, on loan from the Fogg Art Museum at Harvard University, that presides most forcefully in this room. Sarton, a heroine of liberal-left lesbian activists in recent years, leans forward, dark hair held back with a band, smoking in her bold green jacket, orange sweater showing underneath, turquoise cuffs and pants contrasted dramatically against a crimson background. The face of the poet who wrote about the solitary life of the writer, about a woman's love of women, is angular, pellucid, handsome, engaged, determined, intrigued, and receptive... - Scott Ruescher

In 1973, May Sarton moved from the inland New Hampshire home that had been the scene of the creative and inner life she so powerfully probed in both Plant Dreaming Deep and Journal of a Solitude. She went to a house on the sea coast of Maine--a place that was alone in all but a few months in summer, with the sea and the woods and a wide sky ever present.

At first the peace of this place and the escape from the personal anguish she had come to associate with her New Hampshire home seemed to have its own dark side. As she says, "I became haunted by something I read years ago to the effect that when the Japanese were in a period of peace they only painted fans."

But the creative passion returned and she discovered that what she had to give did not depend on others; and this was a discovery of rare value. "Solitude," she writes, "like a long love, deepens with time, and I trust will not fail me as my own powers of creation diminish. For growing into solitude is one way of growing to the end." - back cover, The House by the Sea

---
Read May Sarton
Favorite Quotes
1997 New Year's Greeting
The Action of the Beautiful
All Souls
August Third
Autumn Sonnets
The Cage Bird
Charleston Plantations
The Concentration Camps
The Cosset Lamb (plus earlier drafts)
Dialogue
Divorce of Lovers (excerpt)
A Durable Fire
Eine Kleine Snailmusik
First Snow
Fur Person (excerpt)
Gestalt At Sixty
Happy The Man
In Time Like Air
Invocation
The Invocation To Kali (excerpt)
Leaves Before The Wind
Letter of May Sarton to Juliette Huxley 1939 (excerpt)
The Lion And The Rose
Love
May Sarton's Well (excerpt)
Mrs Stevens Hears The Mermaids Singing (excerpt)
New Year Resolve
Nostalgia For India
Now I Become Myself
Now Voyager
An Observation
Of Molluscs
Pages From A Journal
The Phoenix Again
A Prayer
Prayer Before Work
Proteus
The Sleeping God
The Snow Light
Somersault
The Ten Commandments of the Gentleman Cat
The Waves
We Sat Smoking At A Table
Who Knows Where The Joy Goes
Who Wakes Up
Wilderness Lost...
On The Writer May Sarton
May Sarton Bio
May Sarton: A Biography; book review by Sarah Schulman
May Sarton: A Biography; book review by Susan Hussey
May Sarton: A Biography; book review by Susan Hussey
Between the Lines - May Sarton: Years of Praise by Rose Marie Berger
glbtq - literature - May Sarton by Kenneth Pobo
The Governor in the Garden: May Sarton, More and More by Michael Finley
House for Sale, March 1995
Interview with May Sarton by Neila C. Seshachari
Learning from May Sarton by Cynthia A. Snavely
Letters Across the Atlantic : H.D., Bryher, May Sarton, During World War II by Charlotte Mandel
May Sarton: A Poet's Life by Lenora P. Blouin
May Sarton by Eleanor Sullo
May Sarton by Lenora P. Blouin
May Sarton, classic poet by Will Elliott
May Sarton's estate goes on the auction block in Portland, Maine
Permanence and May Sarton by Deborah Straw
Thayer's Portrait of May Sarton by Scott Ruescher
Who was May Sarton? by Liz Highleyman
Writer May Sarton's Later Appeal, NYTimes Book Review 1997...
On The Writing of May Sarton
May Sarton Bibliography
May Sarton Book Descriptions
May Sarton, At Seventy by Elizabeth Badurina
The Best School in the World by Todd R. Nelson
Dear Juliette, Letters of May Sarton to Juliette Huxley reviewed by Deborah Straw
Desperately Seeking Solitude In Season - Unitarian Sermon
From Loneliness to Solitude - Unitarian sermon by Rev. Robert Hardies
Good Stories and Moral Understanding by Barbara J. Thayer-Bacon
In Time Like Air: May Sarton - A Sermon by Rev. Eva S. Hochgraf
Know Yourself - Unitarian Sermon by Gary Kowalski
Liberal Views of God - Unitarian Sermon by Rev. Dr. Morris Hudgins
No. 645: Sarton and Sense by John H. Lienhard
On Becoming a Teacher: May Sarton's The Small Room by Michael Katz
One Who Persists review by Jeanne Braham
Private Lives by Susan Hill
Reading Group: From May Sarton's Well
Reading Group Guide: Journal of a Solitude
Sarton's novels an affirmation of humanity by Samira Mehta
Sermon for Thanksgiving Sunday by Rev. Judith E. Meyer
Transcending Chronic Illness
Treasure on the Wind: A Tribute To May Sarton by Rev. Barbara Carlson
Webs of Life - Unitarian Sermon by Rev. Mary Katherine Morn...
May Sarton Film and Audio
May Sarton Photo Gallery
May Sarton Audio Recordings
May Sarton: A Live Reading
Mrs Stevens Hears the Mermaids Singing (the movie)
World of Light: A Portrait of May Sarton
May Sarton: Woman of Letters...
May Sarton in the News
Google News