---
Donna Tartt Bio
Donna Tartt is a novelist, essayist and critic. Her first novel, The Secret History, was a bestseller and has been published in twenty-three languages. A paperback version of her latest novel, The Little Friend, [became] available in October 2003. The Little Friend won the WHSmith Literary Award and was shortlisted for the Orange Prize for Fiction.
- Bloomsbury
[Her newest work, The Goldfinch: A Novel, will be available October 22, 2013.]
---
1963
Born
Birthplace: Greenwood, Mississippi
Mother: Taylor Tartt
Father: Don Tartt
Siblings: 1 Sister
Raised: Grenada, Mississippi
1968
1976
Published First Sonnet: Age 13, Mississippi Literary Review
1981
Enters college at University of Mississippi, Oxford
Famous First words from Ole Miss Writer-in-Residence, Willie Morris, to Donna Tartt: "My name is Willie Morris, and I think You're a genius."
Willie Morris recommends Donna Tartt to Barry Hannah (Ole Miss Writer-in-Residence) for his graduate short story course
Barry Hannah says she outperforms the graduate students
1982
Barry and Willie encourage Donna to transfer to Bennington College, a small liberal arts college in Vermont
Donna meets the writers Bret Easton Ellis and Jill Eisenstadt
1984
Donna begins writing The Secret History during her second year at Bennington College
1986
Donna graduates from Bennington College
1989
Ellis recommends Donna to the famous literary agent, Amanda "Binky" Urban
Urban accepts her unsigned
1991
Two years later Urban starts a bidding war for the 866 page manuscript
Knopf wins - paying $450,000 for rights
1992
Knopf orders 75,000 for first printing. (The usual for a first novel is 10,000.)
Storm of publicity surrounding Donna Tartt and her first novel. She is a celebrity before it has a chance to hit the shelves
Knopf has to order additional printings to keep up with demand
The Secret History is on the Publishers Weekly Bestseller List for 13 weeks. It reaches as high as #2
Movie rights to The Secret History sold to the late Alan J. Pakula
2001
Second Novel: tenetively titled, "Tribulation"
Residence: New York
Pets: 3 Dogs
Relationship Status: Boyfriend
2002
Publication of "The Little Friend", October 2002
2003
WH Smith Literary Award for The Little Friend
2013
Publication of "The Goldfinch: A Novel", October 22, 2013
---
Tartt, Donna (CATEGORY: LITERATURE)
(b. circa 1964) Diminutive novelist whose debut, The Secret History (1992), garnered as much attention for its advance (with foreign rights, an estimated $950,000) as for its literary merits. (Such was the promotional effort and media attention bestowed upon Tartt that Newsweek ran a story called "Anatomy of a Hype.") Bennington College, where Tartt was a classmate of early bloomer Brett Easton Ellis, served as the unnamed Northeast campus for this collegiate gothic steeped in classicist mumbo-jumbo. Ostensibly about a cliquish murder among Greek scholars--Lord of the Flies interleaved with The Bacchae--Secret History was really a case study in stultifying pretension, with occasional moments of genuine emotion buried under layers of gratuitous allusion and stilted dialogue. While working on her second novel, Tartt published several pieces of writing, including an essay on basketball in a sports writing collection and a short story in The New Yorker. - AltCulture
---
Author of The Secret History and The Little Friend
She was born in 1963 and attended the University of Mississippi from where she transferred to Bennington College in Vermont.
Tartt's classmates at Bennington College included the writers Bret Easton Ellis and Jill Eisenstadt. It was Ellis who introduced Tartt to his agent, Amanda "Binky" Urban; and it was Urban who started a bidding war for The Secret History that scored Tartt a reported $450,000 advance.
After History's success, she bought a 120-acre plantation near Charlottesville, Virginia with an original 1820s farmhouse to get away from the summer heat of her Manhattan apartment.
She spends most of her time at home in Virginia, but has travelled extensively in Nepal, Japan, Africa and India.
With New York sweltering in a record-breaking heat wave, I make my way to a small French restaurant on the Upper East Side to meet her. Tartt has an apartment nearby (having moved from Greenwich Village), but actually spends most of her time writing at her house "in the country". Persistent questioning narrows this down to the state of Virginia.
But here she is, 10 years later, sitting in a wonderful New York restaurant, fizzy and funny and talking about her new novel, The Little Friend, which shares with The Secret History the theme of a dark incident shaping a life but which in execution is southern and languorous and female and wholly different from its taut, masculine, east coast predecessor.
Current Project: "A novel I don't want to talk about."
Good to KnowTartt's classmates at Bennington College
included the writers Bret Easton Ellis and Jill Eisenstadt. It was Ellis who introduced Tartt to his agent, Amanda "Binky" Urban; and it was Urban who started a bidding war for The Secret History that scored Tartt a reported $450,000 advance.
Southern writer Willie Morris
was a mentor for Tartt at University of Mississippi, where she spent her freshman year. Morris, who had read some stories of Tartt's, introduced himself and told her, "I think you're a genius." He got her enrolled in a graduate writing seminar, and later encouraged her to transfer to Bennington.
Drawing on their college days
, when Tartt would hold alcoholic "teas" in her dorm room, Ellis called his classmate "the only person I know who could drink me under the table" in a 1992 Vanity Fair article. Perhaps Tartt's stamina had something to do with her early "medicine" for the frequent illnesses caused by tonsils that were overdue for removal. Presiding as her nurse, Tartt's great-grandfather gave her regular doses of whiskey and cough syrup containing codeine. "Between the fever and the whiskey and the codeine," wrote Tartt in a Harper's essay, "I spent nearly two years of my childhood submerged in a pretty powerfully altered state of consciousness."
Signed first editions
of The Secret History now run around $100.
Film rights to The Secret History
were sold to director Alan Pakula; but Pakula died in 1998, and the project languished until Gwyneth Paltrow expressed interest. The film is now reportedly in production at Miramax under the actress, with Paltrow's brother Jake set to direct.
Tartt on the delay between books
, to the BBC: "I can't write quickly. If I could write a book a year and maintain the same quality I'd be happy. I'd love to write a book a year but I don't think I'd have any fans."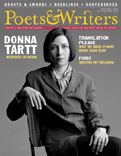 Since Donna Tartt appeared on the cover of the November/December 2002 issue of Poets & Writers Magazine ("Murder in Mind" by Therese Eiben), she received the WH Smith Book Award for her second novel The Little Friend (Knopf, November 2002). Tartt received £5,000 (approximately $8,300). News of her winning the award came in mid-March, the day after she was shortlisted for the Orange Prize, an annual award honoring a novel by a woman written in English and published in the UK. (Valerie Martin won for Property). Bloomsbury, the UK publisher of The Little Friend, won the Expert Books Marketing Campaign of the Year at the British Book Awards. The Little Friend was published in paperback by Vintage Books in October.
Here's a little tip from Tartt: Slip the voice of experience into your favorite books.
Getting Into Character
The New York Times Magazine, October 29, 1995
(8 writers dress up for Halloween. Donna Tartt goes at Joan of Arc.)
Donna Tartt on Joan of Arc: "She has inspired artists from Mark Twain to Martha Graham, from George Bernard Shaw to Leonard Cohen, from Verdi to Schiller to Cecil B. DeMille, but the stark, historical facts of her life are more remarkable than any fiction."
A Legend In Her Own Lunchtime
3 A.M. Magazine, November 25, 2002
Boyd Tonkin on Donna Tartt in The Independent:
". . . Youthful acclaim can block, rather than boost, creative energies. The author of The Great Gatsby -- which was published when he was 28 -- knew that hard truth more bitterly than most. In 1992, another 28-year-old novelist, Donna Tartt, spellbound an equally affluent, equally troubled generation with her debut, The Secret History. Its succulent, calorific blend of Greek orgies, Gothic romance and artful campus comedy helped dig the grave of literary minimalism. . . . The book sparked a bidding war among publishers, spent 13 weeks on the New York Times bestseller list and has sold millions of copies. . . . After this greedily devoured debut came a decade of rumour, and silence, and waiting. . . . But soon the pregnant pause that started when the senior Bush occupied the White House will end. This October, Donna Tartt returns with her second novel, The Little Friend. Ominously, its title as an extended work in progress was 'Tribulation'. . . . At least Tartt has made it to this second hurdle. The story of modern American literature is littered with promising names who fell after the first. . . .
. . . Born in 1963, Donna Tartt is the daughter of a local politician, descended from archetypal Southern stock (her mother's family name is Boushé). . . . Aged 13, she published her first poem: a sonnet in a Mississippi magazine. After leaving school she attended the University of Mississippi - 'Ole Miss' in Oxford, the town where William Faulkner transformed Southern fiction. There the Tartt myth started to take shape. The campus writer in residence saw some work and introduced himself: 'My name is Willie Morris and I think you're a genius'. . . . Acclaimed by Morris and the other writer on campus, Barry Hannah, Tartt moved on to develop her precocious skills at Bennington College in Vermont. It's here, amid the northern woods and snows, that the heady cocktail of high art, low hype and coterie self-promotion that marks the cult of The Secret History really begins to mix. At Bennington she met other apprentice authors: Jonathen Lethem, Jill Eisenstadt, Bret Easton Ellis. She blind-dated the latter after the pair swapped manuscripts: a chunk of The Secret History from her, the first chapter of Less then Zero from him. . . . Green-eyed, petite, smartly but androgynously dressed, Tartt read Nietzsche alone in the refectory and cultivated an air of erudite self-possession. This legend in her own lunchtime, and the plot of her novel, appeared in Ellis's second novel -- The Rules of Attraction -- even before The Secret History had gone to the printers. She graduated in 1986 and hooked up a couple of years later with the ICM agency in New York, better known for its showbiz stars. . . . An initial 75,000 print run (enormous by first-novel standards) propelled Tartt on to a national and international round of teasing interviews and public appearances. On this circuit she dazzled many with her confidence -- and dismayed a few with her conceit. Now living in Greenwich Village, the arch, exotic classicist -- a bona fide smoker and drinker, and a dedicated dog-lover - cut a special dash on a scene increasingly peopled by the sort of new-wave Puritan author who would send back a mineral water if it tasted a tad too rich. Then, almost as fast as she had arrived, Donna Tartt disappeared. Or rather, she chose not to play the media games that keep novelists in the public eye between books. Among the varieties of US literary recluse, Tartt ranks more with the Thomas Pynchons (the type that just gets on with life and stays out of sight) than with the rifle-toting, fence-patrolling, writ-throwing species that is exemplified by JD Salinger. . . ."|In 1992, another 28-year-old novelist, Donna Tartt, spellbound an equally affluent, equally troubled generation with her debut, The Secret History.
---
---