Visual Poetry
Explore your creativity by drawing word mosaics with your poetry.

How to use the Control Screen: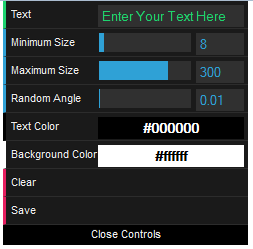 1. Enter your poem or other text in the "Text" field.
2. Optional: Choose minimum size, maximum size, random angle, text color, and/or background color.
3. Click anywhere on the page, hold down the mouse and draw a picture.
4. Click "Clear" to start over or "Save" to save your drawing as an image.
Example Word Mosaic using the first few lines of Allen Ginsberg's, Howl: