The Secret History - Characters - Charles Macaulay
The Secret History | The Secret History Characters
Charles Macaulay: | Favorite Excerpts | Leave a Comment | Comments | Videos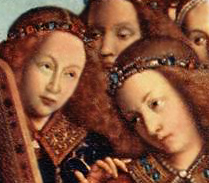 "They looked very much alike,
with heavy dark-blond hair and
epicene faces as clear,
as cheerful and grave,
as a couple of Flemish angels."
CHARLES (m) From the Germanic name Karl, which was derived from a Germanic word which meant "man" (cognate with the Old English word ceorl). The most noteworthy bearer of this name was Charles the Great, commonly known as Charlemagne, a king of the Franks who came to rule over most of Europe. Several Holy Roman Emperors bore this name, as well as kings of England, France, Spain, Portugal, Sweden and Hungary. Other famous bearers include naturalist Charles Darwin who revolutionized biology with his theory of evolution, and novelist Charles Dickens who wrote such works as 'Great Expectations' and 'A Tale of Two Cities'.
Favorite Excerpts
And then there were a pair, boy and girl. I saw them together a great deal, and at first I thought they were boyfriend and girlfriend, until one day I saw them up close and realized they had to be siblings. Later I learned they were twins. They looked very much alike, with heavy dark-blond hair and epicene faces as clear, as cheerful and grave, as a couple of Flemish angels. And perhaps most unusual in the context of Hampden--where pseudo-intellects and teenage decadents abounded, and where black clothing was de regueur-- they liked to wear pale clothes, particularly white. In this swarm of cigarettes and dark sophistication they appeared here and there like figures from an allegory, or long-dead celebrants from some forgotten garden party.
Charles and Camilla are orphans (how I longed for this harsh fate!) reared by grandmothers and great-aunts in a house in Virginia: a childhood I like to think about, with horses and rivers and sweet-gum trees.
- Donna Tartt, The Secret History
---
---
Comments
Poor Charles. He lost his friends, his sobriety, his twin. He came out of it so poorly, without the kind of tragic grace that Henry assured himself in the end. I pity Charles. Catholic, lost, drunken, fair-headed youth that he was-he reminds me of Sebastian from Brideshead Revisted. His ending seems lonely and undignified.
sybaryte
---
3:23 pm, tuesday, july 19, 2005
i felt sorry for charles at the end
- ilovethesecrethistory
---
10:15 am, monday, april 11, 2005
Pale beautiful Charles may not have been limned out sufficiently as a character but I was struck by his ability to wield his looks and manners to charm people defenceless. Paul Bettany (of A Beautiful Mind) is my choice to play him.
Lee-Yan
---
11:24 pm, monday, august 16, 2004
the character is very underdeveloped until the second half of the book, he feels abit uneven. in the first half, we only have richard's word for it that he isn't always a drunken psycho, there is very rarely any direct reporting of his dialogue.
- kitty
---
5:36 pm, sunday, august 8, 2004
Actually, the incest thing, from a psychological viewpoint sort of makes sense to me. Picture twins, naturally close, suddenly losing both parents. They would feel that they only have each other in the world. They'd rely on each other for everything, and that means "everything." Not that it has to happen this way, but it's not a far-fetched concept. People grieve in strange ways.
---
5:58 pm, thursday, july 15, 2004
This is a hard one...At least in terms of choosing from the list of known celebs..Ryan Phillipe, a young Leo Dicaprio, say around Basketball Diaries age....even the actor who plays Peter Parker's school friend turned nemesis in Spiderman 1 and 2. The actor needs to have fairly beautiful, aqualine features, an adrogynous form, closed, dark eyes, slightly stooping posture and a curving smile...No chance of an animated version of the book?
- Alice
---
3:30 am, sunday, july 11, 2004
Charles is by far the least gifted of the main characters. He is no Henry and could never match the qualities of Francis Abernathy. Richard Papen is strong and firm and that sees him through. The only interesting point about Charles is his "incest", but even that forms part of an archetypal sibling-like-rivalry with Henry. Charles' downfall is that he tries to play the antagonist to someone much bigger -and not just in terms of physique-.
- justus lipsius
---
4:49 am, monday, may 31, 2004
the book has the right cocktail: murder, incest, drugs, homosexuality, tons of literary references ... to please all tastes and especially of those americans who crave for an european decadent style of life: money, sex, drugs, booze, literature, good food, good clothes, intrigues, dangerous liasions, etc. actually, i should've written that in francis's box. he was the lavish, wildean one ...
- ijustcantgetenough
---
5:47 am, sunday, august 3, 2003
Charles is endearingly helpless both at the hands of his manipulative sister and his friend Henry. No wonder he likes the drink so much
- cem
---
6:30 pm, friday, july 25, 2003
Nobody seems shocked by Charles and Camilla's incest. I simply can't comprehend incest. Anybody who indulges in it remains to me utterly mysterious. And so, whilst Charles' falling apart is meant to invite our sympathy, I wonder if this works. Are we to sympathise with a repentant murderer but unrepentant practitioner of incest? Camilla seems to me better in this respect: she's bad, and she makes no attempts at straining our credulity, as Charles does, by insisting she's good.
- Lwandile
P.S. I love Judy Poovey: wouldn't live with her though: she'd be a pain. Francis is my man: moderate and normal.
- Lwandile
---
4:33 am, wednesday, march 12, 2003
If I was to choose a character to be from the Secret History, I'd be Charles (no , not only because I'd want to have a affair with Francis

) But he's just the one who is the most friendly and the one i most identify with *takes a drink from her beer-bottle* ... ha,ha . No honestly, Charles is great. i somehow pity him, because he has a hard time in the end... and this thing about Camilla must be really disturbing. But hey, i can understand him! He hasn't had an easy childhood. I love Charles !
- Rike
P.S. ...and Francis
P.P.S. thinking about Francis .. i'd REALLY like to be Charles ... *giggle*
- Rike
---
1:38 pm, sunday, february 16, 2003
Charles had a poorly developed sense of self. Not a complicated or malicious soul, the murders, and subsequent manipulations of Henry, Camilla, and occasionally the others, troubled him, and led to the alcoholism, fear of persecution and loss, and the rages. Charles became dangerous.
Judy
---
9:33 pm, friday, january 24, 2003
He was the weakest, despite all of the characters' assumptions that Bunny was the weak link. After Bunny's death, while the others blossomed, Charles fell spectacularly apart. For all his failings, though, he was the only one who it seemed existed in a world of right and wrong, without the gray edges.
- Sarah Jane
---
3:50 pm, sunday, december 1, 2002
he bores me.
---
3:04 pm, sunday, december 1, 2002
In apperances a very carefree man who needs to possess camillia to be sure of himself.
Naomi
---
12:47 am, thursday, november 21, 2002
Incestuous, abuser, accomplice to murder - I don't know why people dismiss these parts of Charles so easily. He is not a good guy.
---
my pookie
---